No results were found for the filtering!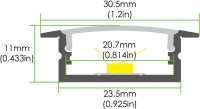 LED built-in light bar LE-AR3
The LED recessed light bar LE-AR3 is specially designed for installation in recesses such as wood or drywall. The LED profile is additionally fixed with the aid of the fastening clips. In the built-in light strip, LED strips with a...